Real Food
Bar del Pòsit
Every day
continuously
from 12 a.m. to 12 p.m.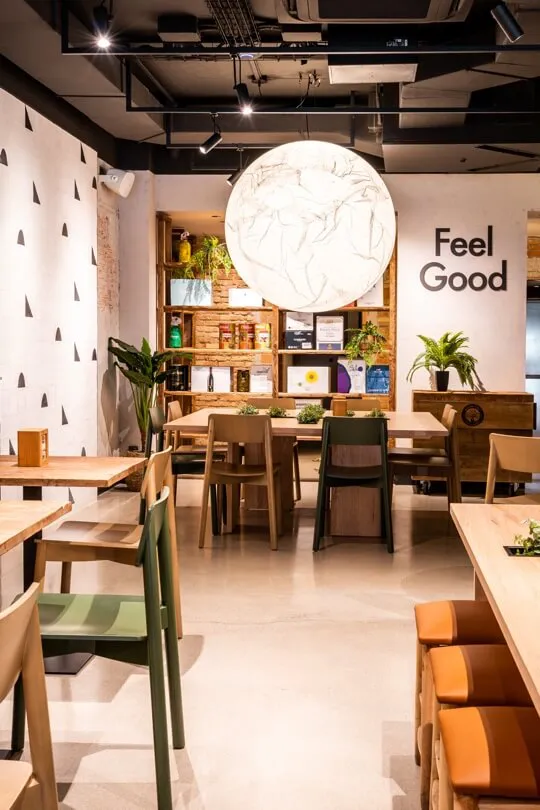 Bar del Pòsit offers a different gastronomic experience with a clear purpose: to act sustainably to create a positive impact on people, on the territory and on the environment.
We prepare our own recipes with local products, without processed products or artificial preservatives and preferably organic. We use vegetables and nuts from KM0, local and certified organic meats, as well as local fish from certified sustainable fishing.
The desserts are homemade, healthier, lighter and very tasty.
We work with local winegrowers to make our own wines, supporting the local economy and contributing to fairer trade.
Accessible
Highchairs for children
Wifi
Air-conditioned
Takeaway
Gourmet check
Terrace
Pet friendly terrace
Excelente
Muy buena atención y comida muy rica. El ambiente que transmite el local, la carta digital y sobre todo los platos, muy variados y con buena presentación. Muy Recomendable
Global255761
Gran atención y muy buena comida
Nos habían recomendado este lugar por la comida y nos sorprendió además con una muy buena atención. La comida salió rápido y cumpliendo todas las expectativas
CristiPP87
Comida en pareja excepcional
Restaurante súper bonito con un ambiente muy agradable. Ha superando nuestras expectativas. Todo fresco sabroso y diferente a lo que hemos comido antes
Laura A
Espectacular
Si quieres algo diferente, de calidad y buen precio, este es el sitio Atención excelente, personal muy atento. Muchas gracias . Volveremos y lo recomendaremos
Amaia B
Volveremos
Una comida esquisita y sorprendente con productos de primera calidad. Es la primera vez que venimos y repetiremos seguro. Todo impresionante!
Cris I
Muy buen servicio y calidad en sus productos
En el centro de la zona del puerto, una terraza fantástica, un trato inmejorable y el producto buenísimo, era la primera vez pero seguro no la última
Oscar T
Excelente opción
Calidad, sostenibilidaf y equilibrio. Alcachofas espectaculares, arroces al punto y los postres caseros. Precio muy equilibrado. Sin duda una excelente opción
Merim
Una de mis mejores experiencias
Es una de las mejores experiencias culinarias, comida limpia, de km 0. Cocina de autor en un lugar especial, una terraza preciosa, con cocina a la vista
Valentina Ormazabal
Give away
El Pòsit
Give a special and unique gift.
A gastronomic and traditional experience around our seafood cuisine and local wines.
Rice for 2
Rice for 2 (except Rice with lobster)
Salad to share
Wine, water, desserts and coffee